Archipelago are a company best known for their Botanicals brand, including fragranced candles, bath and body products and a wonderful array of reed diffusers. An Archipelago Botanicals diffuser will fragrance your home with wonderful, natural scents to ennervate or to help you relax and unwind after a busy day, set a romantic mood or welcome guests into your home.
The Four Archipelago Reed Diffuser Ranges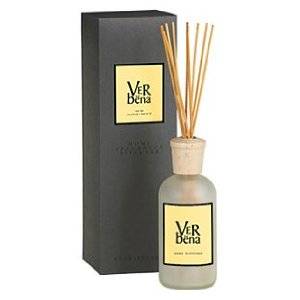 Archipelago Botanicals AB Home diffusers
These come in two sizes, a 16 oz or an 8 oz and in fifteen delicious fragrances so you are sure to find the perfect one for your home.
The most popular fragrances in this range at the moment are Eucalyptus, Jasmine and Verbena. Pictured (right) is the AB Home Fragrance Diffuser (VERBENA).
If you would like to browse all the fragrances available in this range, here is the link Archipelago Botanicals AB Home diffuser range
Archipelago Excursion diffusers
These also come in two different sizes and there are also refills available for this range. The large size holds 8.2 oz of fragrance and there are twenty fragrance choices ( you can view the range available here
).
The smaller size, called Excursion Travel
is available in twenty-two different fragrances, each holding 1.6 fl oz. The neat thing about the travel range is that each diffuser is supplied with five sets of diffuser reeds which are disposable. Set up your fragrance diffuser wherever you travel and when you pack up, dispose of the reeds and re-seal the leak proof bottle. It only takes a few seconds so you can take your favorite fragrance with you and take the scent of home anywhere in the world.
In the travel size, one reviewer commented that she always uses Enfleurage fragrance in the bathroom.
"ALL my guests comment on what a nice fragrance this is."
The Excursion diffuser refills make an economical way to replenish the fragrance once it is spent. Each refill holds 7.85 fl oz and there are currently 19 different refills available for this range.
The Archipelago Botanicals Private Reserve diffuser range features a collection of five special fragrances made with powerful 'absolutes', costly essences not usually found in home fragrance products and more usually found in perfumes. These unusual and complex fragrances are really luxurious and smell amazing. They make wonderful gifts too with the stylish black packaging that makes a very stylish statement.
If you think that the titles of the fragrances in this range do not sound very imaginative, this is because the original working titles of the perfumers has been retained in the finished product. Each of the diffusers in this range holds 8.2 fl oz.
view the Private Reserve range here
The most popular fragrance in this collection on Amazon.com, is called "Lust". It has been designed to capture the romance of Paris and includes a blend of
"Bourbon Vanilla, sultry Vetiver, warm Amber and shocking Bergamot"!
The last collection is the Signature Archipelago Diffuser range. The nineteen different fragrances in this collection are supplied in diffuser bottles, each holding 7.85 fl oz. These are long lasting fragrances that will fill your home with delicious perfume for several months.
When the fragrance is spent, or you would like a change, there a Signature refills range, also holding 7.85 fl oz with which you can replenish your diffuser. There are also replacement reeds available if you would like to change to a different fragrance or feel that the reeds are now spent too.
One reviewer said this about the fragrance of the pineapple ginger diffuser in this range:-
"I notice it every time I walk in the front door but it doesn't really "smack" you in the face. All of the archipelago reed fragrances have been subtle but effective. They last a LONG time, over 7 months for the shortest-life one and going on 10 months for another. I occasionally turn the reeds upside down but beyond that I just enjoy the scent. It definitely is an much more pleasant experience that perfumed air spray, no fire danger as with candles and not strong like most plug-ins I have used. Try it, I think you will be delighted. "
View the Signature Diffuser range here
As you will see, there is an Archipelago Botanicals Diffuser for every taste, every room in the home and even to take with you when travelling. This couple with the stylish design of the packaging and the diffuser bottles, the long-lasting fragrances and the excellent value for money – especially when buying them from Amazon, makes an Archipelago diffuser the perfect choice, whether for keeping or for giving.