If an essential part of the Christmas Holidays is the wonderful scent of a fresh natural pine tree in your home you might have been missing out if you an artificial tree or live in a smaller home where a big fresh cut Christmas tree just isn't practical. But there is great news, you can have that fresh zingy yet subtle fragrance that makes your home smell of the Christmases you remember with the beautiful Frasier Fir fragranced reed diffuser pictured below!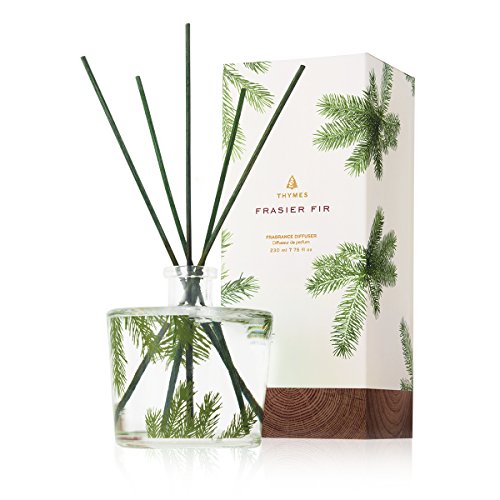 Thymes Frasier Fir Reed Diffuser is brilliant, long lasting, economical and getting rave reviews! It captures the fresh, clean scent of newly cut pine trees perfectly and fills your home with a gentle fragrance that will make your guests do a 'double take' if you have an artificial tree as they will be certain that you have a fresh pine tree in your living room!
This Thymes product is one of the top selling reed diffusers on Amazon.com, with an economical refill bottle of oil available to top up your diffuser if needed, this fragrance is popular throughout the winter, not just in the Holiday. Some thrifty reviewers have said that they purchased the refill to use with their own reeds and container. I think this is a great idea if you have a special Christmas vase or vessel that you would like to display by using it as the base for your diffuser.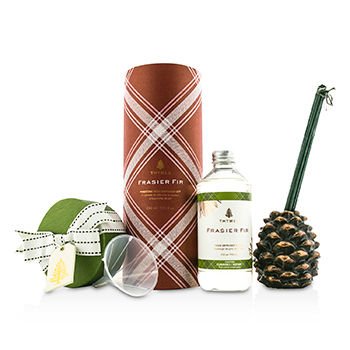 If you want to give one as a gift, there is a version with a pinecone shaped base in which to place your rattan diffuser sticks. It comes in a pretty gift box too!
For those of us who have an artificial tree that we dig out of the loft each year because we want to be eco-friendly and not cut down more fresh pine trees, the Frasier Fir Diffuser is a great way to have the best of both worlds.
The scent of fresh pine can give some people a headache. However, I read a review on Amazon where a couple who avoided all fragranced oils and scented candles because of sensitivities to these products, stated that this was not the case with this particular oil.