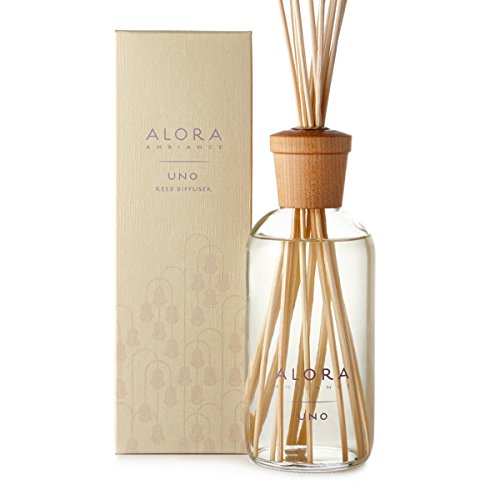 Welcome to the Reed Diffuser Shop website.  We hope you will enjoy browsing through the articles about choosing and using a reed diffuser as the natural way to fragrance your home.  You will find tips, ideas and lots of beautiful products which are available at amazingly good-value prices.
You can search this site by article title, or by entering the search term you are looking for in the search box.  If you have any questions or would like us to write about a particular fragrance or product, please let us know by using the 'contact us' page.
Using a Reed Diffuser is becoming a very popular way to fragrance any room in the house.  Because natural oils can be used, including aromatherapy essential oils, this is a popular choice with those of us who prefer not to use harsh chemicals in our homes.
In addition, as no electricity or naked flame is required (unlike oil burners), there is no danger of fire.
Using aromatherapy oils may be particularly desirable to create a special ambience in some rooms in the house.  In the bathroom for example, you may choose to take a relaxing bath after a busy day.  A citrus scent in the kitchen might be just the thing to wake you up in the morning.   In the bedroom, it might be that the right fragrance is just what you need to spice things up a little!
A Diffuser works by a very simple method called capillary action.  Hollow reeds are placed into the oil and they draw this up through the hollow centre and allows the fragrance of the oil to be gently diffused into the room when it reaches the top.
Reed diffusers are so simple and stylish that they will suit the decor of almost any room.  You can choose to purchase a set comprising container, reeds and oil, or you may prefer to use a pretty container of your own, chosen to complement your room setting.
A reed diffuser is simple to set up, simply pour the fragrance oil into the container, arrange the reed sticks in the container and wait!  It will take about an hour for the reeds to draw up the fragrance and for you to appreciate the full beauty of your new purchase.
The length of time that your diffuser will continue to dispense fragrance is dependent upon the size of the room, the ventilation in the room and air temperature.  A large sized reed diffuser should give you up to twelve months continuous use and smaller ones up to four months.  Once the fragrance has been exhausted, you only need to purchase a refill of the same fragrance – remember though that when refilling your container, never place your reed sticks on any surface that could be damaged by the oils, put them on a plate or in another glass container to avoid accident.  This makes them compare very favourably price-wise with other methods of fragrancing your home.