The story of Alora Ambiance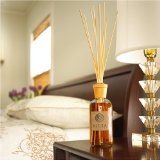 Alora Ambiance products were developed as a result of sisters Annie and Therese Gibbons finding a diffuser in the window of a small local shop whilst they were living in Lake Como, Italy. They did not like the fragrance particularly but, having discovered the Italian way of using a diffuser to wick fragrance into the home (although at the time, as far as I know, it was not called a diffuser), they decided to design their own product based on this diffuser.
The result was the first three signature scents were introduced to America with the launch of Alora Ambiance in 2000. Although there are now countless diffusers on the market, the Alora brand remains the forerunner and is still the number one fragrance diffuser in Barneys of New York!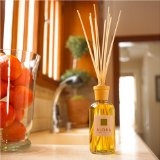 The diffuser is a deceptively simple design but Alora Ambiance products are made with great care and attention to detail and the result is a diffuser that is a stylish centrepiece as well as an effective room fragrance and air freshener.
The liquid seeps up through the reeds and is diffused from the top of each, filling the room with the signature fragrance of the Alora product you have chosen.
There are now many Alora Ambiance Fragrances and these make perfect and very acceptable gifts for any occasion. All the fragrance names are available on the Alora Ambiance Shop page on this site where you will find product links to read more about each fragrance.