Archipelago are a company best known for their Botanicals brand, including fragranced candles, bath and body products and a wonderful array of reed diffusers. An Archipelago Botanicals diffuser will fragrance your home with wonderful, natural scents to help you relax and unwind after a busy day, set a romantic mood or welcome guests into your home.
The Four Archipelago Reed Diffuser Ranges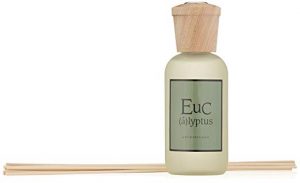 Archipelago Botanicals AB Home diffusers
These come in a range of sizes and in over 17 delicious fragrances so you are sure to find the perfect one for your home.
The most popular fragrances in this range at the moment are Eucalyptus (pictured on the right), Jasmine and Verbena.
If you would like to browse all the fragrances available in this range, here is the link Archipelago Botanicals diffuser range
Archipelago Excursion diffusers
There are 16 fragrance choices for this range and they come in 8.2 fl.oz bottles and there are also refills available. You can view the range available here
.
The smaller size, called Excursion Travel
is available in twenty-two different fragrances, each holding 1.6 fl oz. The neat thing about the travel range is that each diffuser is supplied with five sets of diffuser reeds which are disposable. Set up your fragrance diffuser wherever you travel and when you pack up, dispose of the reeds and re-seal the leak proof bottle. It only takes a few seconds so you can take your favorite fragrance with you and take the scent of home anywhere in the world.
The Excursion diffuser refills make an economical way to replenish the fragrance once it is spent. Each refill holds 7.85 fl oz and there are currently 13 different refills available for this range.
The most popular fragrance in this collection on Amazon.com, is called "Kashmir". It will "immerse your home with the scent of paradise on Earth. Orange Blossoms, Sandalwood and Kashmir Vanilla are combined to create our Kashmir inspired reed diffuser. This warm and refreshing fragrance blend will fill your home with a little bit of paradise that will last for months."
The last collection is the Signature Archipelago Diffuser range. The fifteen different fragrances in this collection are supplied in diffuser bottles, each holding 7.85 fl oz. These are long lasting fragrances that will fill your home with delicious perfume for several months.
When the fragrance is spent, or you would like a change, there a Signature refills range, also holding 7.85 fl oz with which you can replenish your diffuser. There are also replacement reeds available if you would like to change to a different fragrance or feel that the reeds are now spent too.
As you will see, there is an Archipelago Botanicals Diffuser for every taste, every room in the home and even to take with you when travelling. This coupled with the stylish design of the packaging and the diffuser bottles, the long-lasting fragrances and the excellent value for money – especially when buying them from Amazon, makes an Archipelago diffuser the perfect choice, whether for keeping or for giving.