Woodwick reed diffusers are becoming a hugely popular best seller from this company, perhaps better known for its scented candle ranges. Woodwick produce two sizes of diffusers, a range of refills and an innovation in diffuser products, a spill proof diffuser range.
The small reed diffusers from Woodwick are the perfect size to give as a gift or to introduce a friend, or family member to the benefits of fragrancing the home using an oil diffuser. They are perfect for smaller rooms such as bathrooms, cloakrooms and hallways and are great tucked away in an alcove so that you get a gentle waft of fragrance as you pass by.
Each of these small diffusers is presented in a pretty glass jar with a wooden lid and supplied with a dozen reed sticks. They represent great value for money as the fragrance will last for four weeks or so. When in use, they are 22 cms tall. The three most popular fragrances in this size (at the time of writing), are Frasier Fir and styles called 'At The Beach' and 'Cinnamon Chai'.
View the entire Woodwick Small Diffuser range with this link!
The large reed diffusers from Woodwick should go on supplying fragrance to your room for three months or longer. Again, each one is supplied in a prettily designed glass jar containing 7.4 fl. Oz of highly concentrated fragranced oil, each has a wooden lid. One dozen of the reed diffuser sticks come with each fragrance.
View the entire Woodwick Large Reed Diffuser range with this link!
How to activate your Woodwick reed diffusers
To activate a diffuser, simply arrange the reeds supplied in the container so that they can absorb the oil. Place where you wish in your room, taking care to avoid high traffic areas where the contents could get spilled. It takes about twenty-four hours for the reeds to become fully saturated with oil and for the fragrance to start being diffused at the optimum rate.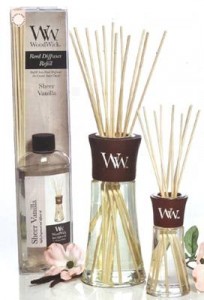 Woodwick Spill-Proof Diffusers
These are a great innovation and perfect for areas where you would like to place a diffuser but are worried about it getting knocked over. The clever design means that the pretty jar is filled with fragranced oil just like the conventional diffusers but the oil is drawn up through a wick inside the container and diffused from the wooden lid of the container rather than through reeds.
This type of diffuser represents real innovation and would make a great gift for anyone among your friends and family who is very conscious of style and new trends in home decor.
Woodwick Diffuser Refills
It is sound economic and environmental sense to refill your diffuser when it is spent, rather than purchasing a new one. If you want to change the fragrance, all you need to do is to wash the jar carefully with warm soapy water and leave it to dry before refilling.
You can view the woodwick diffuser refill range with this link.
Of course, if you already have a pretty reed diffuser bottle, you can use one of these refills with that too. Each refill holds the same as the large sized diffuser (7.4 fl oz) so will refill a small size at least three times making Woodwick reed diffusers and refills an excellent and economical choice for fragrancing your home.